Summer Festival, Mount Abu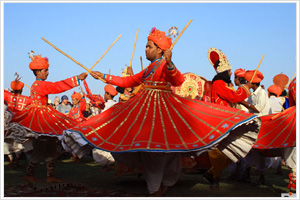 Hill Station of the Rajasthan in a festive mood with the Summer Festival, held every year in the month of June. The steep rocks, tranquil lakes, picturesque locations and the pleasant climate of Mount Abu make it an ideal location for the festival. The three-day festival is a feast of folk and classical music and a window to the tribal life and culture of Rajasthan.

The festival begins with the singing of a ballad which is followed by folk dances which enthral the spectators. Sporting events such as the boat race on the Nakki lake add variety to the festival.

The Sham-e-Qawwali is a much-awaited musical extravaganza, as renowned qawwals from all over the country can be heard regaling the audience. The grand finale of the festival is a display of dazzling fireworks which adds to the tourist's delight.

Udaipur (185 kms.) is the nearest airport. Abu Road (29 kms.) is the nearest railway station. Taxis and buses are available from both the airport and the railway station. There is also a good network of bus services connecting Mount Abu to important places like Ahmedabad, Udaipur, Jodhpur, Jaipur etc.