Romantic Rajasthan Tour
Duration : 12 Days / 11 Nights
Destinations : New Delhi - Agra - Ranthambhore - Neemrana - Samode - Jaipur - Udaipur - New Delhi.
Day 01: New Delhi (ARRIVAL): Welcome to Incredible India!!! Upon arrival at Indira Gandhi International Airport in New Delhi (the capital city of India), the representative of Western India Nature Tours will receive you with warm welcome with Indian tradition and then transfer you to the pre-booked hotel. Overnight stay will be at the hotel.
Day 02: New Delhi: After breakfast move out for a daylong sightseeing of Delhi. Delhi, an energetic city, with a unique blend of the ancient and the contemporary era. Delhi has two visible parts: New Delhi, the city created by the British in 1911 as the Imperial capital of India and Old Delhi considered as the Muslim capital of India between the 17th and the 19th century. Major attractions to see and explore in this city include Rajghat, Jama Masjid, Red Fort, Birla Temple, Qutub Minar, Humayun's Tomb, India Gate, Old Fort, Lotus Temple, etc. There are many other attractions and cultural objects in this city you can see depending on your time. On time return to the hotel for dinner and overnight stay.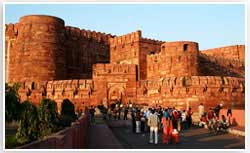 Day 03: Agra:visit Taj Mahal - imposing Red Fort on the banks of the Yamuna, established by Akbar in 1565.Continue to the Taj Mahal, the great monument to love, and built by Shah Jahan as a memorial to his wife Mumtaz. oday after breakfast drive to Agra. Agra fort – built by the great emperor Akbar in 1565 A.D., the fort is a masterpiece of design and construction. Within the fort are a number of exquisite buildings, including the Moti Masjid, Diwane-I-Am, Diwane-I-Kas and Musamman Burj, where the Emperor Shah Jahan died in imprisonment, besides Jahangir's Palace, Khaas Mahal and the Sheesh Mahal. Itmad-ud-Daulah built by Empress Noor Jehan in the memory of Her Father. Overnight stay in Hotel. Night stay in your hotel. - Taj Mahal Closed on Friday.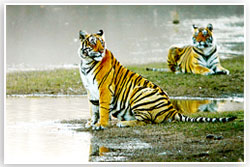 Day 04: Ranthambhore: After having a leisurely breakfast drive to Ranthambhore - famous for the wildlife sanctuary which is said to have the India's friendliest Tigers and also considered to be the best place in the world to photograph the tiger in its natural habitat, also a wonderful place for bird watching On your arrival at Ranthambhore check in at your hotel. Night stay at your hotel.
Day 05: Ranthambhore: Morning we move out for jungle safari to see the rare Indian tigers in full glory at the Ranthambhore National Park. After lunch we try another chance in safari of National Park. Share your experience of the adventures day on the dinner table. Over night in your hotel.
Day 06: Neemrana: After a leisurely breakfast drive to Neemrana. On arrival check-in to your hotel (Neemrana Fort). Neemrana Fort-Palace is among India's oldest heritage resorts which has its own charm to stay in an heritage palace hotel which gives you an experience of historical luxury in an authentic palace hotel. Over night in your hotel room.
Day 07: Samode: After having a leisurely breakfast, drive to Samode in your exclusive vehicle. Samode a small village near Jaipur is famous for its beautiful Samode Palace and garden. You will be wonder struck at the building structure of the exquisite Diwan-I-Khas, that still adorned with original paintings and mirror work. During the day, a camel ride through the Samode village and the adjoining countryside is a good idea. Evening hold lot more in its treasures, the hotel organizes a musical evening of folk dances and songs performed by the local artisans. Night stay at your hotel.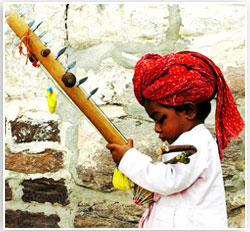 Day 08: Jaipur:Morning drive to Jaipur. On arrival, check-in at your hotel. In the evening take a walk through the colorful Bazaar. Overnight stay in Jaipur
Day 09: Jaipur:After breakfast, visit Amber Fort - Journey architecture with its terraces and ramparts reflected in the Maota Lake below. Go up the fort on the back of a gaily-caparisoned elephant true to the style of the Maharajas of the past. The interiors of the fort have various royal halls decorated with intricate ivory, mirror and glasswork complemented by exquisite wall paintings. Afternoon venture back into the city tour: Visit the City Palace Museum where you can see an imposing blend of traditional Rajasthani and Mughal Art. The museum is resplendent with its collection of robes of royal princes, carpets, an armory of old weapons, miniature paintings portraying court scenes, battle scenes and processions, Also visit the awe inspiring Jantar Mantar (an accurate observatory built in 1726 AD). Also included is a photo visit at the Hawa Mahal (Palace of Winds). Overnight stay in Jaipur.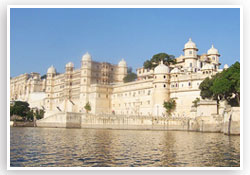 Day 10: Udaipur: Morning drive to Udaipur in your exclusive vehicle. The city is built in 1559 A.D. by Maharaja Udai Singh and has been described as the most romantic spot on the continent of India by Col. James Todd. On arrival, check-in at your hotel. In the evening take a walk through the colorful Bazaar. Take a boat ride on Lake Pichola, and visit the Jag Mandir Palace amidst the lake, the picturesque beauty of the palace will take your breath away. Night stay at your hotel.
Day 11: Udaipur: After breakfast, day to visit the romantic city of Udaipur. Udaipur is famous around the world as the City Of Lakes or Venice of East. The Pichola, Udai Sagar, Fateh Sagar and Swaroop Sagar in this city are considered some of the most beautiful lakes in the state. The City Palace of Udaipur built in 1559 also Jagdish temple, Sahelion Ki Bari. Evening enjoy the Boat ride on Lake Pichola. Overnight at Udaipur.
Day 12: New Delhi (DEPARTURE):After breakfast, day at leisure, later transfer to airport / railway station for your flight / train to your onward destination.(The Tour Ends)
Special Services:
·  Welcome Dinner at Jaipur.
·  Invitation to Indian family house to experience real culture and tradition.