Rajasthan Cultural Tour
Duration of the Tour: - 16 Days and 15 Nights
Destinations Covered: - New Delhi – Agra – Jaipur – Bikaner – Jaisalmer – Jodhpur Ranakpur – Udaipur – Chittorgarh – Pushkar - Mandawa - New Delhi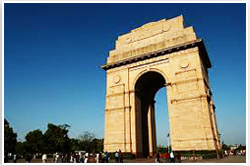 Day 01: New Delhi (ARRIVAL): Welcome to Incredible India!!! Upon arrival at Indira Gandhi International Airport in New Delhi (the capital city of India), the representative of Western India Nature Tours will receive you with warm welcome with Indian tradition and then transfer you to the pre-booked hotel. Overnight stay will be at the hotel.
Day 02: New Delhi: After breakfast move out for a daylong sightseeing of Delhi. Delhi, an energetic city, with a unique blend of the ancient and the contemporary era. Delhi has two visible parts: New Delhi, the city created by the British in 1911 as the Imperial capital of India and Old Delhi considered as the Muslim capital of India between the 17th and the 19th century. Major attractions to see and explore in this city include Rajghat, Jama Masjid, Red Fort, Birla Temple, Qutub Minar, Humayun's Tomb, India Gate, Old Fort, Lotus Temple, etc. There are many other attractions and cultural objects in this city you can see depending on your time. On time return to the hotel for dinner and overnight stay.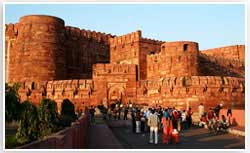 Day 03: Agra: visit Taj Mahal - imposing Red Fort on the banks of the Yamuna, established by Akbar in 1565.Continue to the Taj Mahal, the great monument to love, and built by Shah Jahan as a memorial to his wife Mumtaz. oday after breakfast drive to Agra. Agra fort – built by the great emperor Akbar in 1565 A.D., the fort is a masterpiece of design and construction. Within the fort are a number of exquisite buildings, including the Moti Masjid, Diwane-I-Am, Diwane-I-Kas and Musamman Burj, where the Emperor Shah Jahan died in imprisonment, besides Jahangir's Palace, Khaas Mahal and the Sheesh Mahal. Itmad-ud-Daulah built by Empress Noor Jehan in the memory of Her Father. Overnight stay in Hotel. Night stay in your hotel. - Taj Mahal Closed on Friday.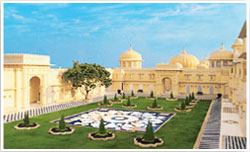 Day 04: Jaipur: Morning drive to Jaipur. On arrival, check-in at your hotel. In the evening take a walk through the colorful Bazaar. Overnight stay in Jaipur
Day 05: Jaipur: After breakfast, visit Amber Fort - Journey architecture with its terraces and ramparts reflected in the Maota Lake below. Go up the fort on the back of a gaily-caparisoned elephant true to the style of the Maharajas of the past. The interiors of the fort have various royal halls decorated with intricate ivory, mirror and glasswork complemented by exquisite wall paintings. Afternoon venture back into the city tour: Visit the City Palace Museum where you can see an imposing blend of traditional Rajasthani and Mughal Art. The museum is resplendent with its collection of robes of royal princes, carpets, an armory of old weapons, miniature paintings portraying court scenes, battle scenes and processions, Also visit the awe inspiring Jantar Mantar (an accurate observatory built in 1726 AD). Also included is a photo visit at the Hawa Mahal (Palace of Winds). Overnight stay in Jaipur.
Day 06: Bikaner:Morning drive to the Bikaner. Bikaner the 'Camel City' of Rajasthan. This royal city contains magnificent Forts and Palaces in reddish-pink sandstone and is therefore, worth visiting and exploring. Arrive & check-in at hotel. Relax & freshen up. Later visit the Camel research and breeding farm which is largest one in the world. .Evening is at leisure. Overnight stay in Bikaner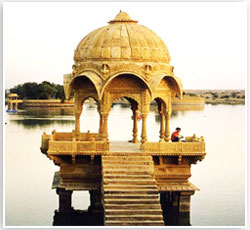 Day 07: Jaisalmer:Morning drive to Jaisalmer, on arrival transfer to hotel. Evening at leisure. Night stay in Jaisalmer.
Day 08: Jaisalmer:Morning day for sightseeing tour of the Jaisalmer. Visit Jaisalmer Fort, the fort is the second oldest in Rajasthan after Chittor Fort and commands the Desertscape from its 250 feet high perch on the hill. Three strong walls protect the citadel. Later visit Gadsisar Lake, The beautiful arched gateway across the road down to the tank is said to have been built by a prostitute. The lake is an idyllic spot for outings. Also visit Royal cenotaphs and Jain temples. They are beautiful carved and dedicated to Rikhabdevji and Sambhavnathji. Evening visit to Sam/Khuri, for an experience of the placid sand dunes of the Thar Desert. Later, enjoy Camel Ride in Desert with View of sunset from the dunes, as the sky is set on fire. Return to the village for Gala Dinner amidst Rajasthani Musicians Playing Haunting Tunes. Overnight stay in Jaisalmer. Overnight stay in Jaisalmer.
Day 09: Jodhpur:After breakfast proceed for Jodhpur. On arrival check-in at your hotel. Move out for a sightseeing tour of the city. visit the The Mehrangarh Fort, The Umaid Bhawan Palace is not only one of India's most imposing palaces but also among its most recent and the Jaswant Thada which is architectural landmark found in Jodhpur. Overnight at Hotel in Jodhpur. Night stay at your hotel.
Day 10: Ranakpur:After breakfast, drive to Ranakpur with its 16th century temples. Night stay in Ranakpur.
Day 11: Udaipur:Morning drive to Udaipur. On arrival, check-in at your hotel. In the evening take a walk through the colorful Bazaar. Take a boat ride on Lake Pichola, and visit the Jag Mandir Palace amidst the lake, the picturesque beauty of the palace will take your breath away. Overnight stay in Udaipur
Day 12: Udaipur:After breakfast, a day for the local sightseeing of Udaipur. Udaipur is famous around the world as the City Of Lakes or Venice of East. The Pichola, Udai Sagar, Fateh Sagar and Swaroop Sagar in this city are considered some of the most beautiful lakes in the state. The City Palace of Udaipur built in 1559 is a must-visit for all tourists to Udaipur. We also visit Jagdish Mahal & Sahelion Ki Bari. Evening enjoy the boat ride on Lake Pichola. Overnight stay in Udaipur
Day 13: Chittorgarh: Morning after having a leisurely breakfast drive straight to Chittorgarh in your exclusive vehicle. On arrival check in at your hotel. Relax for a while. Move out to visit magnificent Chittorgarh Fort and other attractions. Remaining day at your own disposal. Over night in your hotel.
Day 14: Pushkar:After breakfast drive to Pushkar, Pushkar boasts temples, though few are as ancient as you might expect at such an important pilgrimage site, since many were deserted by Aurangzeb and subsequently rebuilt. The most famous is the Brahma Temple, said to be one of the few temples in the world dedicated to this deity. It's marked by red spire, and over the entrance gateway is the hans, or goose symbol, of Brahma, who is said to have personally chosen Pushkar as its site. Night stay in Pushkar.
Day 15: Mandawa:Morning, drive to Mandawa. On arrival check in at your hotel. Mandawa the "City of Havelis". On Arrival check in at Hotel. Evening free at Leisure. Overnight at Mandawa.
Day 16: New Delhi (DEPARTURE):After breakfast, day at leisure, later transfer to airport / railway station for your flight / train to your onward destination.(The Tour Ends)
Special Services:
·  Welcome Dinner at Jaipur.
·  Invitation to Indian family house to experience real culture and tradition.