Jaipur Private day tour schedule: by Car and Driver by Western India Nature Tours
We at Western India Natrue Tours offers private car with a driver for private day tour for Visiting the Jaipur city and near by places. As it is the best way to visit Jaipur city by a private car and driver. This service is highly recommendable by the visitors as it is cost effective, time saving and safe.
Western India NatrueTours has a nice fleet of Cars of all range along with a professional and Experienced driver. All our cars are spaceious, comforatble and  equipped with all safety equipments.
Our comapany is among the best in Jaipur as its recongnized by Ministry of tourism, Government of India. We have well experienced staff who is always dedicated towards their work and  towards each and every request of the tourists which helps us serve the best. Moreover our wide and enhanced network, best variety of Day Tours and Cheapest car rentals services allows the tourists to have and memorable trip.
Tour Starts : Every Day 8AM from your Hotel
Tour Ends : Every Day 7 PM at your Hotel
Tour Type: Private or in Group.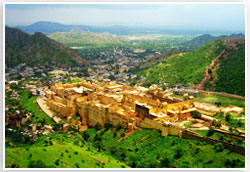 0800 hrs - 1100 hrs: Meet at the hotel and proceed Amber Fort  :
In the morning pick up from the hotel and warm welcome by Western India Nature Tours representative, escort to your car, and moving towards the day trip to Jaipur.

The Amer Fort, situated in Amber, 11 kilometers from Jaipur, is one of the most famous forts of Rajasthan. Amer, originally, was the capital of the state before Jaipur. It is an old fort, built in 1592 by Raja Man Singh. This fort is also very popularly known as the Amer Palace. The Amer Fort was built in red sandstone and marble and the Maotha Lake adds a certain charm to the entire Fort.
Here you can also enjoy the ride on the Elephants.

 1130 Hrs - 1200 Hrs : Hawa Mahal visit.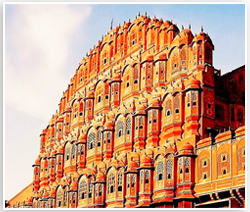 Hawa Mahal or 'Palace Of The Winds',  is one of the prominent tourist attractions in Jaipur city. Located in the heart of Jaipur, this beautiful five-storey palace was constructed in 1799 by Maharaja Sawai Pratap Singh. The palace is built of red and pink sandstone. The main highlight of Hawa Mahal is its pyramid shape and its 953 windows or 'Jharokhas' which are decorated with intricate designs.
Here in front of the Palace you can also get an oportunity to take some pictures of the Snake charmers.



1200 Hrs - 1300 Hrs : City Palace Visit :
City Palace complex of courtyards, gardens and buildings, the impressive city palace is right in the center of the old city. The palace is located towards the northeast side of central Jaipur and has many courtyards and buildings. The palace was built between 1729 and 1732 AD by Sawai Jai Singh II.

 1300 Hrs - 1400 Hrs : Jantar Mantar Observatory.
Jantar Mantar: Jantar Mantar is a largest and the best preserved of Sawai Jai Singh's five observatories. It is also a houses the world's largest sundial.It is built in stone and marble whose setting and shapes are designed scientifically and which are one of the high points of medieval Indian astronomy. There are also 2 Ram Yantra's for gauging altitudes.
1400 Hrs - 1500 Hrs : Lunch at Indian Restaurant


1500 Hrs - 1600 Hrs : Albert Hall visit.
Located at the city center, Albert Hall  is a museum . It is the oldest museum of the Rajasthan state and functions as the State museum of Rajasthan. The building is a fine example of Indo-Saracenic architecture which was designed by Sir Samuel Swinton Jacob and was opened as public museum in 1887. It is also called the Government Central Museum.
The museum has a rich collection of artefacts like paintings, carpets, ivory, stone, metal sculptures, colourful crystal works etc.

1600 Hrs - 1700 Hrs : Birla temple  and Moti Doongri visit.
BirlaTemple is among the important landmarks of Jaipur, originally known as Lakshmi Narayan Temple, and is situated below the Moti Dungri Fort in Jaipur. Dedicated to Lord Vishnu and Goddess Lakshmi, this temple is a proud architectural landmark of Jaipur. Built in pure white marble, the Birla Temple is unlike the traditional ancient Hindu temples.
Also visit the famous Ganesh Temple next to the Birla Temple.

1700 Hrs - 1900 Hrs : Jaipur Local Market visit.
Free time for you do look out some Indian souvenirs for you your family and friends in the Bazaar.


1900 Hrs : You will be dropped at the hotel or the desired place.
The tour ends here with drop at the Hotel, and we hope that Jaipur has been able to create a magical place in your heart, which will be cherished and remembered throughout your life. We thank you for providing us the privilege to serve you as our prestigious guests.
Private Jaipur Day Tour includes:Private day tour by Car and Driver by Western India Nature Tours
Departure Every Day.

Price par person : 45 USD*  ( till 31 March 2017)
Prices are based on minimum 2 persons.
Pick up & Drop from the Hotel, Airport, Railway Station and Bus stop.
Air Conditioned car with English speaking driver.
Service of local guides for monuments.
Lunch at local restaurant.
Toll Tax, Parking, Toad Tax.
24 * 7 Assistance by team Western India Nature Tours.
Price Exclusions :
Driver and guide tips (No obligation)
Camera and Monument Fee.
Persnal expenses.
For Book your private day tour, please contact +919950336883
For Book your private day tour, please contact +919950336883 or mail: info@westernindianatrue.com
We are recognized by Ministry of Tourism, Government of India. Please click here.
Western India Nature Tours Pvt Ltd
F-1st Floor, Jatta Shankar Apartment,  (10 AM to 06 PM) (Sunday Off).
Near Bagadiya Bhawan, Subhash Marg,
`C` Scheme Jaipur- 302001

Phone - + 91- 141 - 2220509
Fax: +91-141-4113015
Mob - + 91- 9950336883, 7877603644, 9829188542
E-Mail - info@westernindianature.com, nary@westernindianature.com
Day tours Client's Photos
Request Note: - The above proposed tour program can be customized as per your need and requirements.